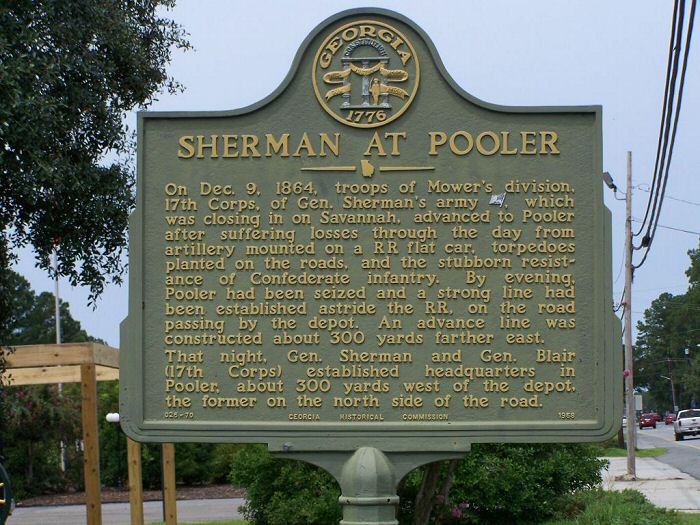 (published in the Nov./Dec. issue of Pooler Magazine)
Six months ago, Tony Miner decided it was time for his business to leave Savannah. It wasn't for lack of customers. His training school for young baseball and softball players was doing pretty well, but its location - the middle of a malodorous industrial area – didn't exactly conjure up idyllic images of the national pastime. When it came time to find a new home, Miner considered only one city, and many other business owners appear to be doing the same.
"Pooler was the only place I looked at," Miner says. "I didn't need to look anywhere else, because this is where I wanted to be." For that simple reason, you can now find the Miner League Baseball and Softball Academy just off Highway 80 East behind the New Super Buffett Chinese Restaurant. Spend any time in Pooler and you'll hear other stories like that of Tony Miner. Whether it's a brand new business like the Publix supermarket off Pooler Parkway or a relocated company like Embry-Riddle Aeronautical University, Pooler is growing again. Perhaps 'still growing' is a better way to put it, because the infusion of people and business never actually stopped. The faucet was just turned down to a trickle during the economic downturn.
"We were fortunate in that we weren't affected by the recession as much as some other cities," says Mayor Mike Lamb, "because we have people working for the city who did an excellent job of keeping an eye on the economy." For much of the past decade, it didn't seem that a recession or anything short of a neutron bomb could stop Pooler. Its population almost tripled, from 6,239 according to the 2000 Census count to a 2009 Census estimate of more than 16,000, "a number we still think is too low," Lamb quickly adds.
Beginning in the 1990's, Pooler was a mass footrace between new residents and homebuilders. The city added 500 to 600 new residents per year, and that doesn't take into account people who live just outside the city limits. "When I talk about growth in Pooler, I really like to talk about the Pooler area," Lamb says. "Even though the folks in some of the subdivisions off Jimmy Deloach Parkway aren't technically in the city, a lot of them still have Pooler addresses, so they are just as much a part of us as anyone." All those new residents needed places to shop and eat, and they got them.
It's true that the Wal-Mart Supercenter, Sam's Club and Home Depot near I-95 are technically in Savannah, as are the hotels near Savannah-Hilton Head International Airport, something that even confuses the hotels. "The manager of the new Embassy Suites that just opened (near I-95 behind Wal-Mart) invited me to be part of his ribbon-cutting," Lamb says, "and I told him I'd be honored to come, but that he's not in my city. He seemed surprised." But just down Pooler Parkway within the city of Pooler, eateries like Longhorn Steakhouse, Fatz Café, Lenny's Sub Shop and Cancun Mexican Restaurant arrived and thrived before the economic slowdown.
Construction also picked up on Highway 80 east of downtown, as business after business sprang up on the road toward Garden City. The Mighty Eighth Air Force may have been founded in Savannah, but its memory and legacy have been preserved at their gorgeous museum that opened at Highway 80 and I-95, in 1996. Now, the museum is getting even bigger with the restoration of a World War II-era B-17 bomber that began last year.
On the housing side, among the many subdivisions bursting from the dust was Godley Station, with a mix of single-family homes, apartments, and office complexes. The influx of people forced the hand of the Savannah-Chatham County School Board to build Godley Station School, which opened its doors this year to 1,100 students ranging from Kindergarten through 8th grade. But as the bricks were being laid for the school, some began to wonder if the mortar had been mixed too soon, as the triple threat of the nationwide housing glut, the financial crisis, and the recession brought most building to a halt.
Well, almost a halt, at least in Pooler. Sure, some major plans fell through, most notably 16 West – the plan for a Target, JC Penney, Belk and many other stores near I-16 at Pooler Parkway which fell through when the developer defaulted on a loan and went bankrupt during the real estate meltdown. But Home Depot competitor Lowe's followed through with plans to open a new store in that area. The hammers building new houses and apartments fell silent for the most part, but some businesses near the homes that were already built kept moving in or making plans to do so.
A drive down Benton Boulevard, which runs past Home Depot, yields small shops like a golf store, larger businesses like Savannah Tire and new restaurants such as Smokin' Pig and Cheddar's Casual Café. Frames-N-Games, which features a sparkling bowling alley, laser tag center, and video game arcade, just celebrated its first anniversary. Frames-N-Games is also home to another restaurant – The Pooler Grille Bar – as well as a "balladium", where you shoot (and are shot at with) foam balls in a 3-D, blacklit, fluorescent-colored room reminiscent of a life sized video game or a losing politician's bad dream.
This year, the nation started to slowly emerge from the recession; slowly as in the speed of a slug. But things are moving faster in Mike Lamb's city, maybe not top gear speed, but quicker than many other cities. "We still aren't seeing the housing construction we had earlier in the decade," Lamb says, "but the pace of business growth has definitely picked up." Lamb proudly points to the relocation of Embry-Riddle Aeronautical University's campus to Pooler from Hunter Army Airfield, but under the radar of such headline-grabbers, small business owners like Suzanne Varas are also helping to make Pooler work.
"I had been operating under another business owner's roof when they went out of business, which was bad, but it was also good because it forced me to do what I had always wanted to do", Varas says from Coastal Design Connections, located at Pooler Commons on Highway 80 East. Her background is interior design, but Varas mostly concentrates on the sale and installation of flooring, carpets, backsplashes, cabinets, and custom-made blinds.
Varas used to work in Savannah, and that was one reason she wanted to open her own store in Pooler when she got the chance. "It's safer here, and in Savannah, I always got the sense that I wasn't accepted because I'm not from here originally – I've lived here for ten years, but yes, I'm a Yankee." Varas also felt like the victim of an old-boy network because of her gender; cabinetry and flooring tend to be male-dominated businesses.
When she opened her Coastal Design Connections store in February, Varas didn't have a party, a ribbon cutting, a plethora of dignitaries or flowing champagne – at least not in public. She had something she thinks was more important, a host of well-wishes from people like her. "Everyone, other business owners, came out just to say hello, welcome to the area, and if you need anything just let us know. It was so different than anything I had experienced before." Varas now understands that Pooler business owners have a Musketeer-like grasp on the concept of one for all and all for one. "Everyone wants you to succeed to keep the business coming to the neighborhood."
Varas was also attracted to Pooler's abundance of potential business locations, something that also caught Tony Miner's eye as he looked for his new hardball home. "We were able to build a brand new facility, 7,200 square feet. It's 1,200 square feet bigger than our old academy." To help execute his mission to provide expert baseball and softball instruction to the next generation, Miner also wanted to be centrally located to his customer base. While he is still relatively close to Savannah, his academy's home for two years before the move, "now we're in the middle of a city that's growing rapidly and has more of our target demographic. We're also closer to Effingham and Bryan Counties and the folks across the line in South Carolina and all the growth there. We think we have found the perfect location."
Many of the region's industrial recruiters had focused for years on the effort to lure somebody, anybody, to the so-called Mega-site at I-16 and I-95. After numerous manufacturers took a pass, the effort finally yielded fruit when Mitsubishi announced they would create up to 500 jobs there. To be sure, Mayor Lamb is excited about Mitsubishi, but you'll have to forgive him if his Mega-site attention span was interrupted by other job-yielding projects that were moving more quickly. "We've got the new Publix (on Pooler Parkway) that everyone is excited about. We also have not one, but two multiplex movie theaters being built"; one near Publix, the other near Frames-N-Games. "Housing construction still hasn't come back to its previous levels, but the businesses are coming in droves."
Lamb hasn't gotten everything he would like to see. A new high school, for instance, isn't likely to be built to Pooler and may not be built anywhere in West Chatham for a while, as the school board wrestles with the problems of where to build it and how to pay for it. "Sure, I'd like to see it in Pooler because I'm selfish, and I think our growth justifies it. At the same time, I don't envy the job of the superintendent and the school board. They have a lot of tough decisions to make, and some groups of people will always be upset regardless of those decisions."
Still, Lamb believes that if taxes remain reasonable and banks slowly start to lend money to entrepreneurs again, Pooler will continue to be fertile soil in which to seed a business. "I think that, eventually, 16 West will be developed into a viable shopping alternative to the malls in Savannah. I believe Wal-Mart or some other big box store will eventually build at 16 and Pooler Parkway near Lowe's. And I think people will continue to move here because of the quality of life our city offers." Even after a decade of expansion only mildly abated by recession, Pooler remains, as the folks at Embry-Riddle might say, ready for takeoff.